First of all, my personal favorite photography quotes:

"This is a colorful world, and my photography reflects it."

"To me, photography means being in the right place at the right time!"

"Buying a better camera doesn't buy you a better picture!"

My passion, or most interested field, of photography is on landscape/seascape/cityscape. I enjoy the feeling of being alone all by myself in the middle of nowhere before sunrise or sunset, searching for the best composition, and the perfect light, and patiently wait for a long exposure shot to emerge. Besides landscape photography, I also like to play with the depth of field in macro photos, or make some funny, wimpy photos out of my little Danbo character. However, there is always one thing in common in my photos regardless the subjects. That is they are mostly a very colorful images. I guess that is my "style" as I always said, "This is a colorful world, and I want my photography reflects it." But lately, I begin shooting some B&W photos too as I believe they could also deliver a very bold, and powerful message.

I consider myself a photographer, not a Photoshop master. I tried to achieve my vision in-camera instead of relying on post-processing. My belief is you just cannot replace real clouds or water movement during long exposure, or a shallow DoF & beautiful bokeh using wide open aperture, or a real Grad ND filter to balance the sky and the foreground in a digital darkroom.

BTW, I thank you for all the views, comments, and faves! I really really do appreciated!! =)

And I also thank you for adding me to your contact too! It means a lot to me as it probably means you like my photography! I'll stop by and check out your profile & photostream. However, please don't be offended if I don't add you back as my contact right away! I try to keep up with all my contact's upload, and due to the limitation of my time, I try to keep my contact list in a manageable size. Therefore, unless you have a very decent photostream or a very frequent commentator of mine, chances are I might not be able to add you back as my contact.

My photos have been featured on many web sites, blogs, and magazines. If you are interested in purchasing commercial licenses, prints, or canvas, please send me an email/flickrmail for a quote. All of my prints are professionally printed, and I only use Kodak professional photo paper in size up to 24"x36" poster size.

Below is an example of a 24"x36" poster size printed on Kodak Metallic paper.



Milestones:
-- 1st DSLR camera, Nikon D5000, Sept. 2009
-- 1st Flickr upload, Oct. 6th 2009
-- 10,000 views, Jan. 11st, 2010
-- 20,000 views, March 16th, 2010
-- 30,000 views, April 18th, 2010
-- 50,000 views, June 24th, 2010:
-- Nissin "DiGi love life, love photography Photo Contest 2010" 1st place in Scenery Picnic category, August 2010
-- 100,000 views, Sept. 29th, 2010
-- Added a Nikon D7000 to the line up, Oct. 2010
-- D7000 net, featured "Inspiring D7000 Photos on Flickr", Nov. 11st, 2010
-- 200,000 views, Nov. 1st 2010 (Yay, 100k views in 1 month!)
-- 300,000 views, Dec. 15th, 2010
-- Popular Photography Magazine, Photo of The Day, Dec. 15th 2010
-- 400,000 views, Feb. 26th, 2011
-- Marin Magazine featured photo, May 16th, 2011
-- Digital Photographer Magazine Readers Photo of the Day, May 18th, 2011
-- Featured photographer on Outstanding Photographers Blog, June 1st, 2011
-- Digital Photographer Magazine Readers Photo of the Day, June 5th, 2011
-- Featured on Digital Photographer magazine, June 2011
-- Feautred on Outdoor Photographer Magazine's web site, and representing the state of Maryland, USA, June 2011
-- 500,000 views, July 4th, 2011
-- Featured on Digital Camera magazine, July 2011
-- 600,000 views, Nov. 27th, 2011
-- Featured as Nikon USA's Facebook page cover photo, July 2012
-- 700,000 views, August 28th, 2012
-- 800,000 views, August 23rd, 2013

And if you like my photos, you might also want to LIKE my Facebook page too!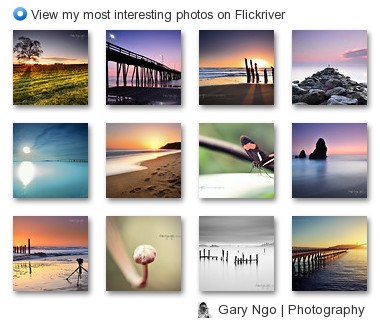 Since Dec. 29th, 2009


Photos of Gary Ngo | Photography (22)
Gary Ngo | Photography's favorite photos from other Flickr members (1,136)
Groups (50)
Fuji X-E1 /X-E2 by Fujifilm

58,866 photos, 3,119 members

Fujifilm X-Seres Photographers

30,032 photos, 890 members

Fujifilm X-mount cameras

53,444 photos, 2,180 members

Digital Camera World

63,280 photos, 2,411 members

52Week - Open Registration until Jan 1 2014

1,720 photos, 113 members

Fuji X-Pro 1 & XE-1 by Fujifilm

100,189 photos, 5,496 members

Shenandoah Valley

9,033 photos, 449 members

Lake Tahoe

10,433 photos, 1,654 members

Singh Ray Filters

2,979 photos, 400 members

StarStaX - Image stacker for Mac / Windows / Linux

1,860 photos, 1,074 members

Natural Light Child Photography

353,601 photos, 34,637 members

Nikon Digital Learning Center

1,102,241 photos, 74,563 members

B&H Photo

37,080 photos, 6,243 members

N-Photo Mag

109,990 photos, 2,727 members

Getty Images Call for Artists

431,705 photos, 100,509 members

Your Best Shot 2011

12,689 photos, 14,629 members

Newborn Portraiture - The Art of Posing

3,039 photos, 1,378 members

Newborn posing inspiration group

18,190 photos, 6,878 members

Landscape Photography Magazine

28,738 photos, 3,539 members

Maryland, USA

57,779 photos, 1,666 members

Professional landscapes

147,742 photos, 6,683 members

Butterfly Beauty

102,789 photos, 10,114 members

Bokeh.Factory

8,265 photos, 2,217 members

Nikon Prime Lens Club

24,191 photos, 1,327 members

Nikkor AF-S 50mm f/1.4G

40,881 photos, 3,493 members

Nikon AF-S NIKKOR 50mm f/1.4G lens

20,258 photos, 1,704 members

Bokeh addiction

117,202 photos, 6,007 members

50mm f/1.4 Shooters

213,619 photos, 9,734 members

Bokeh Photography (1/day)

151,759 photos, 11,534 members

Lumix GF1 Pancake 20mm f/1.7

5,900 photos, 684 members

Lumix GF1 RAW

19,259 photos, 755 members

Micro Four Thirds (Micro 4/3)

340,591 photos, 9,553 members

California Landscape and Seascape

39,242 photos, 1,906 members

[Star Trails]

13,653 photos, 3,867 members

Star Trails

19,102 photos, 7,765 members

Marin Magazine

2,233 photos, 186 members

The Golden Gate Bridge

15,748 photos, 3,090 members

Outdoor Photographer Magazine (Unofficial)

215,659 photos, 7,508 members

Digital Photographer Magazine

13,258 photos, 449 members

100 faves

5,771 photos, 739 members

PopPhoto.com Photo of the Day

50,171 photos, 2,336 members

B&W / Monochromatic Minimalism

8,367 photos, 1,101 members

Photographer's Choice~Hall of Fame (Invitation)

22,647 photos, 2,090 members

Flower Close-Ups

902,427 photos, 56,510 members

Flowers Macro World - Feel free to join us!

246,158 photos, 19,187 members

Macro Photography

293,442 photos, 34,905 members

★ Macro - Up Close and Personal ★

159,781 photos, 9,089 members

Closer and Closer Macro Photography 2013

925,047 photos, 75,203 members

World of B&W + Sepia & other monochrome

415,308 photos, 16,490 members

San Francisco at Night

21,232 photos, 2,800 members
Show more...
Show fewer...
Testimonials
(0)
Gary Ngo | Photography doesn't have any testimonials yet.
Name:

Gary

Ngo
Joined:

January 2008
Hometown:

Hong Kong
Currently:

Maryland

,

USA
I am:

Male and Taken
Website: