I have many images for sale at www.dandeeshots.exposuremanager.com If you would like to purchase one that is not on that site, send me flickrmail and I will add it.

OK, here we go. My first camera was a little 110 model that I got when I was around 7 or 8 years old in 1970 or 71. Here is a picture of me with it (I'm the one in the red shirt in the middle)




Dad was always loved taking pictures and this is something he has passed along to me (my buddy icon is Dad and Me at 12,600 feet in Rocky Mountain National Park). I got a Petnax 35mm "point and shoot" camera with a zoom and several program modes as a wedding gift in 1987. It was great on the honeymoon and we used it for years. Next came a real Nikon, kinda, it was a Pronea 6i APS SLR. You probably didn't even know there was such a thing as an SLR that used APS film. I graduated from that to an N80. The first camera I got that Dad didn't buy for me is the Nikon D70 that I'm using today.

My lenses are: Nikkor 18-200 f3.5-5.6 VR, Nikkor 50mm f1.8, Nikkor 28-105mm f3.5-4.5 with macro, Zykkor 135mm f2.8 manual focus (hey it only cost $15 and fits my D70 body), Sigma 70-300mm f4-5.6 with macro, Sigma 170-500mm f5-6.3 (Dad upgraded a lens and gave his old one to me) and the kit Nikkor 18-70mm f3.5-4.5 that came wtih my D70. I'm currently coveting a Nikon D300 :)

I enjoy taking photos of vacations, family and pets. I also seem to have become the official photographer at church where I live my motto, "the easiest way to take pictures that people love it to take pictures of people they love." I appologize if my photostream is full of "event" pictures, but it is the easiest way to let friends and family see them. I'm wanting to take more time to do "serious" photography by being more creative and maybe do some projects but time is the one thing I don't seem to have enough of! OK, midyear resolution, take more quality pictures!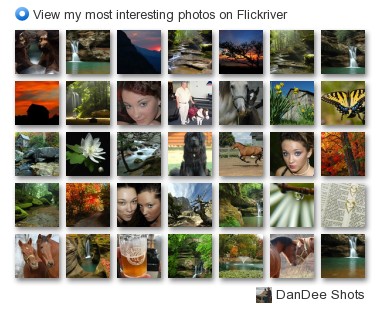 DanDee Shots' favorite photos from other Flickr members (54)
Groups (50)
Enjoying Gods beauty

5,389 photos, 245 members

Virgin Islands (USVI, BVI)

4,553 photos, 419 members

Photoshop Support Group

214,416 photos, 32,863 members

SPORTS ACTION

332,299 photos, 23,798 members

Horses in Motion

30,422 photos, 3,107 members

Amazon Kindle

1,824 photos, 461 members

Group is offline permanently. Please join PLANET EARTH HORSES

7,218 photos, 1,297 members

Abandoned farms

12,791 photos, 687 members

Ohio Parks

4,184 photos, 330 members

Ohio Nature Photographers

11,762 photos, 433 members

Ashland Area Photographers

1,061 photos, 19 members

Chicago Photography

52,662 photos, 2,103 members

Explore Chicago

49,795 photos, 1,688 members

15 Challenges

17,780 photos, 1,783 members

Urban Skylines

88,083 photos, 6,509 members

Flickr Meet - Columbus Ohio

22,175 photos, 1,145 members

Thoroughbred Horse Racing Photographs on Flickr

31,914 photos, 1,657 members

Digital Sports / Photojournalism Photography

159,740 photos, 6,730 members

► Red River Gorge

2,025 photos, 241 members

The Smoky Mountains

423 photos, 46 members

Great SMOKY MOUNTAINS National Park & Surrounding Area!

17,390 photos, 1,910 members

Cades Cove

2,983 photos, 354 members

Ohio Foothills

9,659 photos, 194 members

Ohio Dedicated State Nature Preserves

941 photos, 168 members

Happy Bokeh Christmas

144 photos, 56 members

I ♥ Bokeh.

5,618 photos, 430 members

Hocking county, Ohio

231 photos, 38 members

Photomatix

395,589 photos, 19,377 members

The Challenge Group Game

15,375 photos, 2,876 members

Jesters Challenge Group

8,598 photos, 1,621 members

Flickr Challenge Group! (Moderators wanted)

20,617 photos, 5,525 members

Nature's Creations-P1/C3-No people or buildings

46,338 photos, 4,359 members

Nikon Digital

1,622,868 photos, 69,067 members

*THE PERFECT PHOTOGRAPHER (P1/A2)

872,034 photos, 52,592 members

As I See It (Quality Comment Group) BEFORE YOU POST, READ RULES!

956 photos, 271 members

High Quality Images! Award 7!! Sweeper Running!!!

260,226 photos, 10,642 members

*Artist of the Year*~L2 ~ P1/-A5 ~ Invite Only

112,939 photos, 10,116 members

Life Thru A Lenz: Quality Critiques

21,089 photos, 2,861 members

**AMERICA, AMERICA! (See NEW Gallery INFO)

175,257 photos, 5,241 members

Diamonds from the Sky

1,579 photos, 415 members

Almost Heaven, West Virginia

12,115 photos, 470 members

Explore My Sets - Add 1, Comment/Fave 3 the person to your right

13,674 photos, 2,082 members

Flickr Number One !!

347,543 photos, 9,609 members

Paths (Caminhos) POST , COMMENT & INVITE PLEASE

81,548 photos, 7,735 members

Flickritis: Where 44,332 people are still happily infected!

2,589,955 photos, 45,112 members

sunbeams

3,188 photos, 705 members

God's Art

3,250 photos, 204 members

The Best of God's Creation (Post 1= Comment 1)

10,274 photos, 1,502 members

Buckeye Beauty

137 photos, 14 members

Damn! I Wish I'd Taken That!!! (Invite Only) Post 1-Award2 .

191,553 photos, 22,038 members
Show more...
Show fewer...
Testimonials
(0)
DanDee Shots doesn't have any testimonials yet.
Name:

Dan

Morgan
Joined:

May 2006
Hometown:

Fort Thomas, KY
Currently:

Ironton, OH

,

USA
I am:

Male and Taken