Licensing my photos

Most of my photos here on Flickr are published under a Creative Commons License that allows you to share my photos in your own publications as long as you give appropriate credit (by providing either my real name or my flickr user name, a copyright and license notice and a link to the photo next to where you are using it) and do not use it for commercial purposes. You are also allowed to modify my photo or build upon it as long as you publish your contribution under the same license as my photo.

If you are in doubt whether your planned use of my photo is commercial, please contact me via Flickr. I will usually allow the use of my photo in "slightly commercial" contexts and for non-profit organizations. However, due to bad experiences I like to be asked. If you want to use one of my photos for commercial purposes, please don't hesitate to contact me as well to obtain a permisson.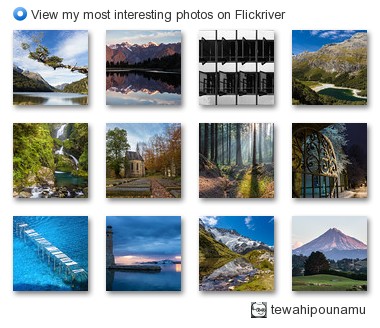 Groups (21)
Paderborn

2,036 photos, 164 members

LONG DISTANCE WALKS

9,492 photos, 1,224 members

New Zealand Natives

7,087 photos, 615 members

Aoraki/Mount Cook National Park

651 photos, 136 members

Otago, New Zealand

9,856 photos, 533 members

Southland, New Zealand-

2,646 photos, 233 members

New Zealand Geographic

52,897 photos, 2,591 members

Christchurch Earthquake

4,892 photos, 265 members

Canon EF 20-35mm f/3.5-4.5 USM

589 photos, 89 members

Canon EF 35mm f2 IS USM

1,207 photos, 379 members

Canon EF 24mm f/2.8 IS USM

329 photos, 81 members

Nik Software Photo Share

159,907 photos, 6,717 members

Canon A-1

18,872 photos, 1,956 members

Canon EOS 6D Low Light High ISO Group

2,370 photos, 507 members

Canon DSLR User Group

2,836,458 photos, 142,490 members

Canon EOS 6D - Official Group

79,134 photos, 6,273 members

Landscape Photography Magazine

33,060 photos, 4,613 members

Milford Track Freedom Walkers

393 photos, 18 members

Fiordland National Park

1,593 photos, 302 members

Great Walks, Tramping Tracks and Routes in New Zealand

3,206 photos, 431 members

Dance around the World - Geotagged pictures only! Post 1/Award 3

2,826 photos, 184 members
Show more...
Show fewer...
Testimonials
(0)
tewahipounamu doesn't have any testimonials yet.
Name:

Harald

Selke
Joined:

September 2007
Currently:

Germany
Occupation:

Lecturer